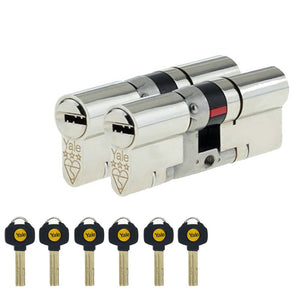 Yale Euro Cylinder Door Lock AS Platinum TS007 3* Star Keyed A Like
Regular price
£87.47
£0.00
The Yale Platinum Keyed Alike 3 Star High Security Euro Profile Cylinder is designed to provide the maximum security available for the ULTIMATE door security upgrade. With its sacrificial front section, hardened grip detectors and interlocking cam the Yale Platinum is one of the most secure euro cylinders locks available earning a TS007:2014 3 star certification. These features ensure Anti-Snap, Anti-Bump, Anti-Pick, Anti-Screw and Anti-Drill protection.
These Keyed Alike Door Cylinder Locks are sold in pairs and are often used for front and back doors to make life easier by being able to use the same key in both locks. Each pack comes with 2 locks and 6 Keyed Alike keys.
Visually, the Platinum 3 Star Cylinder deters would-be intruders with its clearly identified 3 Star kitemark logo present on the face of the cylinder. It has a flat, horizontal key way with reversible key. This means it does not matter which way round you put your key in the lock and is a fantastic feature for ease of use.
TS007 is a standard developed in response to concerns over cylinder attacks. The standard is characterised by a 3 star rating system, and can be achieved by combining a 1 star cylinder with a 2 star security door furniture or using a stand alone 3 star cylinder. The Platinum series cylinder is approved to TS007 3 stars and *does not require* any additional security furniture.
Specification
TS007 2014 3 star approved
Tested to the British standard BS EN1303:2005 16000C52
Kitemark approved – KM559658
3 star standard with no additional security furniture required
Secured By Design
Anti-Snap, sacrificial front section
Anti-Pick, Anti-Bump, Anti-Screw, Anti-Pull and Anti-Drill
Euro retrofit cylinder
Supplied with 6 Yale branded, dimple cut keys as standard
Supplied in keyed alike pairs
Features
Superior strength with cylinder stability system for superior protection
Horizontal keyway
Flat reversible dimple key with new stylish nylon key bow
Key card for easy code identification and key duplication
Available in Brass and Nickel finishes
What's in the Pack?
1 x (pair) Yale Platinum 3 Star Keyed Alike Euro Profile Cylinder
6 x Keys (keyed Alike)
1 x Keycard
2 x Fixing Screws
How do I measure a Yale Platinum door cylinder?
Please remember that one side of an Yale Platinum lock is dedicated external and the other internal, so great care must be taken to ensure you note which measurement is which. Yale Platinum locks are clearly marked 'EXT' on the external side for easy fitting.
The easiest way to measure your old euro cylinder lock is to remove it from your door, taking note which end is external.
Measurement A (Internal): Measure from the internal side to the centre of the screw hole. A = 40mm
Measurement B (External): Measure from the external side to the centre of the screw hole. B = 50mm
The cylinder size you would need to order in this example case is 40mm Int 50mm Ext
---