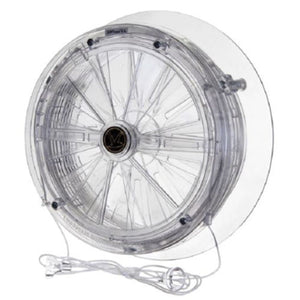 Vent A Matic Pull Cord Fan For Double Glazed Windows Model 106 + Free Stormguard
Regular price
£48.99
£0.00
Technical Details :
This RW Simon Pull cord Vent-A-Matic is designed for use in glass. Controllable ventilator to suit 162mm hole and for double glazing up to 32mm thick.

Features:
Performance size 9000mm.
106 Single Glazed Vent
106 Single glazed vent suits 4-6mm single glazed units.
PSB/DGS
Static Vent-A-Matic, only protrudes 1/8".
Ideal for open fires, wood burners, boilers and for central heating where continuous ventilation is essential.
Suitable for double glazing up to 40mm thick.
Fits any circular hole 160mm to 200mm.
Performance size 10322mm.
These are fitted in seconds.
Exposed locations:
Where the window is in an open aspect or subject to stormy conditions it is recommended that a stormguard is fitted to the unit.
Security:
If the unit is to be fitted near an opening sash, it is recommended that the unit is secured in place using a clear mastic and that a lockable handle be fitted to the window.
---