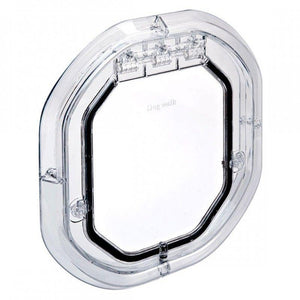 Pet Tek Large Glass Fitting Dog Door Flap Clear And White Available
Regular price
£58.31
£0.00
This medium sized glass fitting dog door is ideal for fitting in single glazed, double glazed and most sliding windows.
It now includes a pair of security clips in the form of locking dials. They are are pressed into place on the inside of the pet door and are ideal for use when going out or away.
Features:
Generous flap size
Supplied with weather seal to reduced draughts and enable a smooth, quiet action
Self lining
U.V. stabilised
Manufactured from a virtually indestructible polycarbonate
No external screws
Developed for medium to semi-large dogs such as Beagles, Border Collies and Spaniels
Self closing flap with magnetic location
Dimensions:
Flap size: 300mm x 270mm
Overall size: 415mm x 430mm
Cut out size: 385mm diameter
Applications: 
Glazing thickness: 3mm - 32mm
Suitable for:
Pet size: Medium to semi-large dogs, with a shoulder height of 450-500mm
All glass fitting pet doors should be installed by a professional and the glass should be cut at the time of manufacture.
---