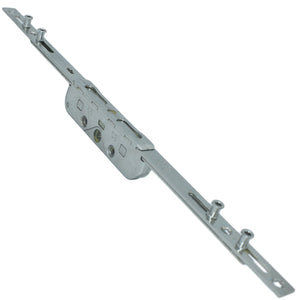 Maco RAIL Inline Espag Window Lock Gearbox 22mm Backset UPVC High Security
Regular price
£11.87
£0.00
Maco RAIL (Reverse Action Inline) Inline Espag Window Lock Gearbox 22mm Backset UPVC High Security
The Reverse Action Inline (R.A.I.L) espagnolette offers the benefit of BS7950 Security Windows without the need to fit a shootbolt espagnolette. Based on a twin drivetrack the reverse operation pulls pairs of mushroom cams together into both sides of a standard striker plate for strength and security.
This design makes it suitable for both commercial and newbuild installation. Using the extensive range of existing Maco striker plates it is suitable for all types of Eurogroove profiles in Timber, Aluminium and PVCu. 16mm mild steel faceplate, silver passivated finish with diecast mazak lockcase, 43mm handle centres and 7mm sintered steel follower for strength.
Available in a range of lengths, all with a 22mm Backset.
An espagnolette multipoint Upvc window lock is the gearing part inside a window that a spindle drive handle operates. Espags are available in a range of sizes to suit your window, if you are unsure which size you need then please refer to the section 'How to identify your window lock' below, this will help you to determine which size and type you will need.
Fully adjustable mushroom cams +/- 0.7mm
Slim lockcase depth - 30mm
All products have a zinc plated/silver passivated/wax coated protective coating
Tested in accordance with ISO9227:1990, BS7479:1991 and DIN 50021/SS for 360 hours in a salt spray environment
---