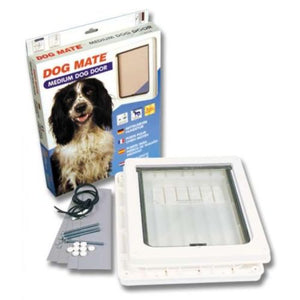 Dog Mate Pet Dog Door Flap Dogs & Cats Medium White 215 215W Flap size 26 x 22cm
Regular price
£43.15
£0.00
Technical Details
The robust construction and security locking panel are popular features of all dog mate doors.
Self lining to 2'' (50mm) thick - ideal for all doors and walls.
Robust security locking panel.
Silent action weatherproof flap with vision panel.
Lightweight flap may be used by cats.
Medium Dog Door
Suitable for dogs upto 18'' (460mm) shoulder height.
Overall Size: W 290mm x H 350mm
Cut Out Size: W 242mm x H 300mm
Large Dog Door
Suitable for dogs up to 25'' (630mm) shoulder height.
Overall Size: W 366mm x H 441mm
Cut Out Size: W 318mm x H 391mm
---